Simone Bailly interview
Who are you?
Hi! I'm Simone Bailly and I am a film & TV actress from Vancouver, Canada (whatup Vancity!) living sunny Los Angeles.

How did you get into acting?
I was a ham when was a child. I would take food out of the fridge as props and perform an impromtu play at home for my parents and their friends. Playing dress-up was definitely the gateway, and once I saw the movie 'Grease' I was smitten.
I did school plays & musicals and knew I wanted to major in Theatre Acting in University. I applied to an audition-to-get-in program where there were over 150 applicants and only 12 actors accepted, and I successfully got into 2 University programs like that. I did my first year at York University, and then transferred closer to home to finish my degree at UBC. I ended up being one of 3 women to graduate the program. I'm proud say I graduated with honors!

Before you got into TV and film, you did theatre work. Can you tell us more about that part of your career?
After graduation, and 3 months backpacking Europe, I took a chance and flew to Toronto to audition for a Shakespeare Company and booked the lead role! I relocated to Montreal to rehearse, and toured with the company for 5 months, doing 2 Shakespeare shows in rep (performing both shows throughout the tour).
After that, I did more professional theatre & touring, then switched to film & TV.
Have you considered going back and doing more work in the theatre?
There are 2 plays I've always dreamed of doing, so that's loosely in the back of my mind but I'd need to my dream team, $, and the rights to make that happen.
I have a famous friend doing some really cool stuff right now, and I fantasize about going on tour with his shows. But theatre is tricky. Not a lot of money, so you do it for the love of the art.

Can you tell us more about the transition to TV and film? What was that like?
I wanted to sign with a particular film & TV agent and she insistently told me over the phone she was not taking any new clients on, but I had already put the postage on the package I was sending to her. Included in the package were 2 tickets to a Fringe play I was starring in, and she came and saw me and signed me right away!
I booked my very first audition, which was for 'The Outer Limits' TV series. I remember it was a packed room full of actors and it seemed like a long shot but I got it! At that point I wasn't really sure how the film auditioning process worked but I would go in and do my thing, I was always prepared and word perfect. I think coming from theatre where there are no second takes helped.
As time went on I took more film workshops & classes, in addition to auditioning for commercials, TV, film, M.O.W.'s (movies of the week), short films, etc. I was also doing modeling and print work. I even worked as an extra, stand in, photo double, and did some stunt/actor jobs. In my spare time I would help produce and work on short films and did all sorts of jobs: co-writing, boom operating, lighting, casting, craft services, props, wardrobe, etc. I love learning and had a lot of fun collaborating with other talented people. Working in different capacities gave me a better understanding and respect for people in those fields and helped me technically as an actor.
You appeared in popular sci-fi shows Stargate SG-1 and the new Battlestar Galactica. Do you make many appearances on the convention circuit for them?
Yes! I love doing conventions. I get asked to do guest appearances all over the world. It's fun because I get to travel, connect with fans, sign autographs, do panels, and take photos with people from different countries. The fans are so wonderful. They are super supportive, some even bring me presents, and I get kind of choked up at the end of a convention because we share such a intense few days together that when it's over I miss them.
I've spoken with a few fans that say the show ('Stargate SG-1') saved their life (from suicide), and others who met their life partners through their love of the show, and generations of families who love the show. It touches my heart that people are so positively influenced by shows I've worked, because that was exactly what I aimed to do.
I also get fans from 'The L Word', 'Battlestar Galactica' and 'Need for Speed: Most Wanted' telling me how much of an influence they were. I love the fans so much, and some are really kind to reach out to conventions requesting me, which I really appreciate because then I get to finally meet them and see the ones I've met again!
Breaking News: I'm thrilled to announce I just signed with Saira Ramos at Idol Works Entertainment as my convention agent. Saira is awesome and we will have some convention announcements for me coming soon. So stay tuned!
Do you have any advice for people making their first appearance on the circuit?
Get lots of rest beforehand, enjoy every minute of it, and make sure to recharge your batteries. Conventions require are a lot of energy. My day usually starts at 8am, I'm on stage in front of hundreds of people, then rushed to photos, autographs, interviews, more panels, more interviews, more photos, more autographs, banquets, parties, etc. It's easy to have too much fun and you don't want to feel burnt out so it's important to find quiet moments to take a breath, eat, and do it all over again. Have fun! Fans are some of the nicest, most lovable people in the world.
Is there anything about the con circuit that fans/attendees may not know about that you want to share?
I'm a painter and have started to share my paintings at conventions. Every painting I do is a one of a kind, and I always sign a personal inscription on the back. Painting is very meditative for me and it's been a great way to share my artistic side with the fans.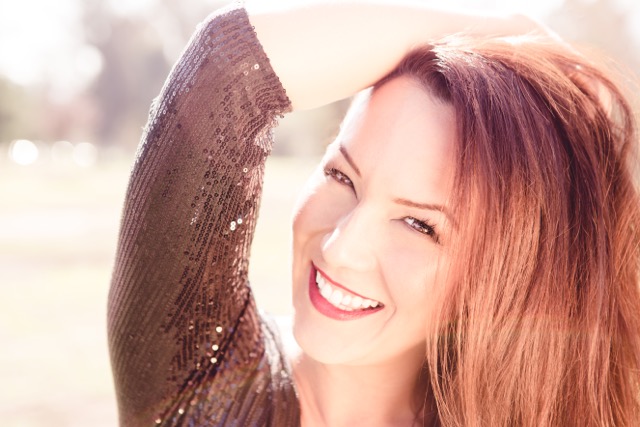 Out of all your filmography, which role do you get recognized for the most?
When I'm in Canada I get recognized on the street for a TV series I was on called 'Da Vinci's City Hall'. I was a series regular playing a dirty cop and they play that show all the time on TV in Canada. Point of interest, Vince Gilligan (Creator of 'Breaking Bad') told me he's a big fan of Chris Haddock's (Creator of Da Vinci's City Hall) work and loves his shows! That was a pretty surreal moment for me hearing that.
Funny story, I was at Burke Williams Spa here in L.A. getting changed in the change room and had just been naked…a girl walked up to me and said, "Excuse me, were you on 'The L Word'?" I was so embarrassed. It was the oddest time to be recognized. Facepalm. 'The L Word' reboot is coming back so I'm hoping to reprise my role as Grace.
The other funny one is Need for Speed: Most Wanted (videogame), I was the sexy cop that would arrest you when you screwed up. I get a lot of guys telling me that I was their first crush!
I mostly get recognized for Stargate SG-1 since it is still internationally beloved and the fans re-watch the show over and over again. I'm lucky I have a lot of shows streaming right now. You can catch me on 'Stargate SG-1' (Season 7-9) on Hulu, 'The L Word' on Netflix (Seasons 4 & 5), 'Limitless' on Netflix (ep.12), and 'Battlestar Galactica' on Amazon Prime (Season 4, eps.19-21).
Where do you see your career going next?
I will always be an actress first and foremost, and I hope to do more film & TV this year. I have conventions coming up (which will be announced soon), and I paint in my spare time. But right now I am learning how to DJ so I am going to a lot of shows and learning how to pilot the equipment & software right now. I'm lucky I have some really talented DJs helping me out so it makes the learning process a lot more fun.
Have you thought about doing more work behind the camera, such as writing, directing or producing?
I'd like to try my hand at directing film at some point. To me it makes sense after working on so many productions in different capacities. I understand how everything works and it would be a lateral move from acting on camera. I really admire people like Lena Dunham who write, produce, star and direct.
In your Instagram bio you say you're an aspiring DJ, how did you get into DJing?
Music has always been a big part of my life. My parents were working and would leave me with my grandparents to babysit. My grandfather was a well-known musician in Calgary. He was a jazz man, so I grew up watching him play, practicing his scales and music, and he'd bring me along to judge marching band competitions. Spoiler alert: the Wildcats always won.
My Dad listened to a lot of music, and then my brother who is 8 yrs. older than me listened to a lot of music as well. Because of that I was exposed to many different genres of music growing up. I was always in choirs, vocal jazz choir, piano lessons, played keyboard, and music in general growing up. I joined a hip hop/funk/jazz band and sang and played keys, and would hang out with my best friend and make beats and sing in the wee hours.
My best friend is a DJ and I would help him load his crates of vinyl to and from his shows. (PS vinyl is super heavy.) I would DJ bunny, as I call it. I would help him load his gear, and I would stand beside him and learn about DJing (and hit the dance floor too). He'd teach me things like the importance of reading the room and building a set, creating energy…the whole experience. My first lesson with him was actually live at a show in front of 200 people! He just let me go live, it was pretty crazy. I always knew I wanted to be a DJ but never felt empowered to do it. People close to me would try and talk me out because (maybe because I'm a girl) they'd try and dissuade me with start up costs and "being out late", and I was always doing so many other things career wise, the dream kind of faded into the background. But now I'm a point where I want to explore things that make my heart sing. I'm excited to learn and see where it goes. There are so many avenues being a DJ can take. It's not all clubs and weddings, I know DJ's who tour with huge bands, and other who become awesome music producers, and people like Kid Koala who create a whole theatrical experience with an orchestra and visuals. There are turntablists/scratch DJs, radio DJs, club DJs, etc. The possibilities are endless and I am very excited to enter this arena and add it to what I'm already doing.
Where can people catch your DJ sets?
Humbly, I'm still learning at the moment, but my friends are excited for me to play at their shows in the future. I'll probably work on a mini set and work my way up. For now you can follow me on Spotify under "Simone Bailly". I hide most of music but there's a few public playlists on there.
Are there any franchises, whether on the small screen or the big one, that you'd love to be involved with?
Marvel or 50 Shades of Grey…for completely different reasons.
Do you have any advice for people wanting to start out in acting?
Here's my acting advice: Train. If possible get a theatre acting degree so you learn different styles of acting and the history behind it. There is so much to learn and all of it is more for your tool belt. Take workshops & classes. I highly recommend finding a good Meisner acting workshop. You want to be super well rounded. Know your instrument: get vocal training, movement/dance training, do theatre, work on indy films. If you don't know how to smoke, learn. If you do smoke, quit. Nothing is worse that watching an actor fake smoking on camera. Or fake drinking for that matter. Watch movies & TV. People watch. Study. Go see good theatre. Travel. Read. Get a copy of The Artist's Way. Learn as many specials skills as possible. Everything gives you an edge in the industry so when they are looking for a person who does "X", you are the go to. That's why I'm constantly learning, expanding and doing so many other things. It all enriches you as an actor and as a human being.
Do you have any projects in the works that you can tell us about?
I'm in a TV series called 'Blood & Treasure' on CBS/Amazon, and I'm really excited about it. It's my first role where I get to play Chinese (which I am, half-Chinese) so that was a big deal for me. I usually play so many other races including Caucasian, so it was great to finally represent that part of my heritage.
'Blood & Treasure' is amazing. It's an action/adventure series that filmed all over the world. I got to re-unite acting with James Callis (Baltar from Battlestar Galactica) again so that was really exciting. It's big budget and is one of the best shows I've ever worked on!
Simone also has a show on her Youtube channel, called The Simone Bailly Show and this is the first episode.
If you could have a single superpower, what would it be and why?
Make people good. Take away greed, violence, hatred, and selfishness and replace it with kindness and love. What a wonderful world it would be…
It's like Star Wars, you're either with the Force or on the Dark Side. I'd like to think I am one of the good guys.
Have you binge watched any shows recently? If so, what have they been?
Lately I have been watching screeners – new release movies I get from my union. TV wise, I usually mix it up between drama, comedy and documentaries. Some of my favorite shows include 'Peaky Blinders', 'Silicon Valley', and 'Stranger Things'. I also started getting into 'I Am A Killer' and 'Follow This' on Netflix, which I found pretty interesting.
I'm sad that 'Vice Principals' (Danny McBride) came to an end and may need to re-watch 'Eastbound & Down' again.
If you could live in one franchise, what would it be and why?
50 Shades because he absolutely adores her and everything they do is to please the other person. Not like I'm super kinky or anything, quite the opposite. I just think a lot of people shy away from that kind of intimacy, vulnerability, and connection. Plus they are billionaires and I have a lot of great things I would do that kind of money.
Are there any actors/directors/writers/etc. you think deserve more attention/coverage?
I'm huge fans of Lena Dunham (Girls), and Mark Duplass (Togetherness) and would love to work with them someday. I also think someone should hire Simone Bailly, she's a really great actress and a lot of fun to work with!
Where can we find you online (social media, etc.)?
You can follow me on:
Twitter: @SimoneBailly
Instagram: @simonebailly
Pinterest: Simone Bailly
Spotify: Simone Bailly
YouTube: Simone Bailly – Actress
Facebook: Simone Bailly – Actress
Website: www.simonebailly.com
TikTok: @simonebailly