Mega5 Cosplay interview
Who are you?
My name is Meagan and I am currently 31 years old , I am a cosplayer living in Florida . I also work full time as veterinary nurse !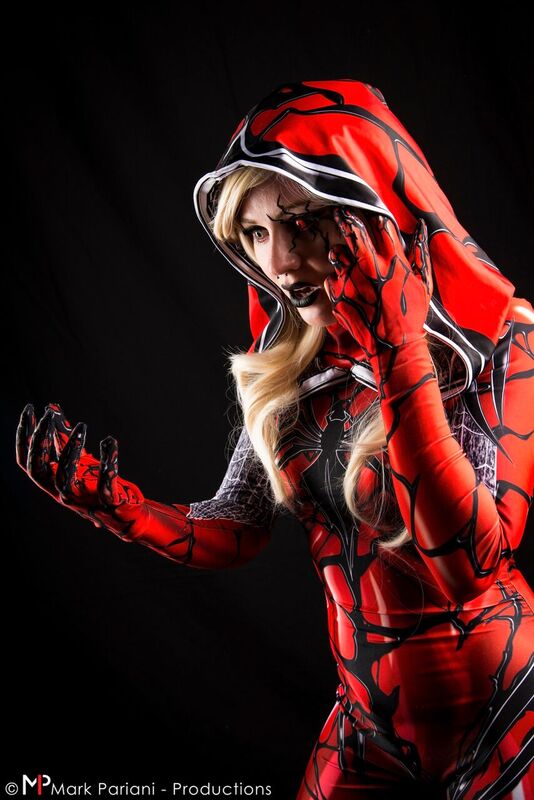 How did you choose your cosplay name, Mega5 Cosplay?
Funny story , I was given this nickname by a group of friends when I was 17 and the boy I was dating at the time also had a nickname with numbers in it and when we combined our nicknames became one . Sort of like the Megazord!
What was yout first cosplay?
Lucy/ Nyu from Elfen Lied , which is my favorite anime!
How did you get into cosplay, and how long have you been doing it?
I have always been interested in costuming and things of that nature but I went to a small local convention at the beginning of 2014 and saw a lot of cosplay in person and it really peaked my interest! So I went to Dragon Con later that year and debuted two cosplays which included Lucy from Elfen Lied and Jessica from Trueblood , this was also my first big convention .
Favourite cosplay you've done so far?
I would probably say any Tokyo ghoul character I have cosplayed before and Android 17 !
Any advice for beginner cosplayers, or people wanting to get into cosplaying?
Don't doubt yourself . The sky's the limit in cosplay . I believe cosplay is an art and not everyone's art is the same , so naturally not everyone's cosplays will be the same ! I found myself beating myself up in the beginning because I couldn't make something or was unable to make something appear exactly like the character, then I came to realize that was not as important as I previous believed. If you wanna make that movie replica of the Predator or you wish to be a sexy Ewok, whichever the case may be you do you and have fun !! Be proud of what you create !
How do you go about choosing which cosplays to make and wear?
Usually I begin by picking characters that I like , rather it be because of their personality or their aesthetic, neither of these may be that of my own but that is what makes cosplay fun! I do tend to enjoy cosplaying characters that are strong or have special abilities because … who doesn't like to be a badass! Personally I also like to choose cosplays that allow me to move rather freely, I get pretty excited when I am surrounded by others in the fandom community so I like to be able to run around !
Which cosplayer would you love to work with?
Danielle Beaulieu ! I love her armor work I think I could learn a thing or two !
Any group cosplays you'd want to do (eg Mystery Inc, Sailor Scouts, Avengers, X-Men, etc)?
I have discussed doing a Sucker Punch group with friends recently . I'd also be super interested in getting a larger group of Tokyo Ghoul cosplayers together ! A group of original Resident Evil or Silent Hill characters also appeals to me ! ( My favorite survival horror franchises)
Looking at your Facebook and Instagram, you've already done some group cosplays. Can you tell us more about how they usually got organised? Typically one of my friends will say hey I have this cosplay what do you think of doing a cosplay then I'll examine whatever franchise it is and pick a character for myself then I will proceed to ask another friend to join and it's like a series of dominos! And thus a group is formed ! I have also had other cosplayers I follow on social media contact me and ask me if I was interested in joining a group. The community is really open and inviting most of the time !
Your instagram also lists you as an alternative model. How did you make your way into that field?
I first started doing some alternative modeling back around 2010 when a friend of mine asked me to model for a calendar they were making to advertise for their tattoo shop ! I enjoy alternative modeling because it highlights unconventional beauty !
You also have a number of tattoos, can you tell us more about them?
Yes I have quite a few tattoos (currently around 26 and a sleeve I think, I lose count sometimes >_<) some have significant meanings to remember events, personal emotions or people while others are just artwork from various fandoms that influence or have had some sort of impact on my life 🙂
You were also in a cosplay music video, by Black Cosplay Media, a while ago. How did you get involved in that?
The founders of BCM are actually dear friends of mine , most times at conventions and photoshoots I help them by acting as a production assistant! As far as the awesome music videos they create, typically when doing press coverage at a convention the BCM crew will walk around and ask cosplayers if they are interested in participating in a music video , if the cosplayer accepts then the crew will take video footage of the cosplayer and get their information so they can be credited in the video once it's released .
If you could have a single superpower, what would it be and why?
I think about this question quite often and I usually juggle telekinesis , time travel and super strength (mostly because I am a tiny person and that would be comical) !
If you could live in one franchise, what would it be and why?
The first thing that comes to mind is Middle Earth , because it is beautiful and full of interesting creatures! Not to mention all the different races have really strong values and morals !
Are there any cosplayers you think deserve more attention/coverage?
Countess Alyx Cosplay , Summerfire Cosplay and Miss Koumori ! You can find them all on Facebook and Instagram!
Where can we find you online (social media etc)?
Mega5 Cosplay on both Facebook and Instagram!