Masrani Corporation site
As mentioned in an earlier post, the Jurassic World site links to the website for the Masrani Corporation.
Masrani is the company, named after its founder Sanjay Masrani, that currently owns and runs Jurassic Park on Isla Nublar. According to the site after John Hammond died in 1997 (the year The Lost World Jurassic Park happened) and Masrani went into talks to buy InGen, succeding the following year. Eventually they managed to get JP open and running in 2005. The one person from the original park still mentioned as being involved is Dr Henry Wu (portrayed by BD Wong, and continuing the tradition of every JP sequel featuring a character and actor from the original).
The site gives information on other ventures that Masrani are involved in, eg oil and telecoms, but the biggest item is the opportunity to apply for an internship with InGen as a biologist. I applied, as I've wanted to go to Jurassic Park since I was 9, when the original film came out. Applying earns you a congratulatory message from Simon Masrani (the current CEO):
and a swanky ID badge: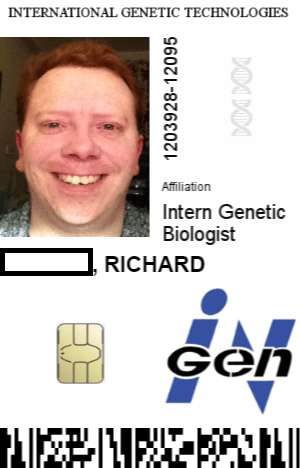 I've blanked out my surname, as i don't feel comfortable having it out there at the moment, but that is my face on the ID badge.
I'm going to be keeping an eye on this to see if it develops into more than just an in-universe site.
Richard